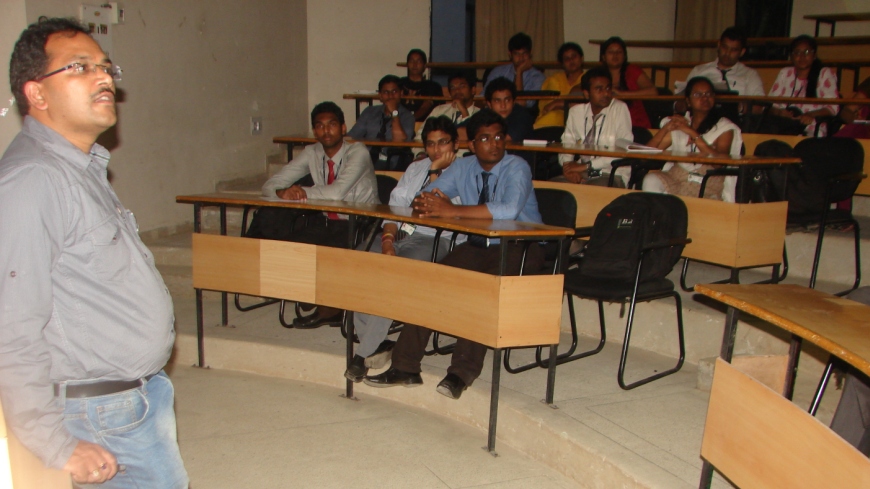 Date: 1st October 2014
Mr. Subrahmanya Gupta Boda, Chief Information Security Officer at GMR Group enlightened the students of IBA with an interactive session on the topic 'Skills for Digital Age'. Before joining GMR Group Mr. Subrahmanya worked with Mercedes-Benz R&D from 1996-2010 in various roles in India, Germany and US.  He holds a Masters in Engineering from BITS, Pilani and BE from Andhra University.
The session started with Mr. Subrahmanya asking the students a couple of questions about their transferable skills and its importance in the market. He stressed on the importance of Communication skills, Team work and Market awareness. He interacted about the latest Technology trends with the students and how the scope of trends like Cloud computing and Digital Marketing.
He advised students to be cautious of additional certifications as initially he feels enhancing working knowledge, being creative and being oneself. He subsequently detailed the reason behind companies investing in IT – 'Innovation in processes, Ease of Administration and Low productivity error. In his own words "The World is Flat" and it is a matter of debate where the IT services market is heading with new services and product innovations coming to the fore from everywhere with every passing year.
Towards the end Mr. Subrahmanya enlightened students of the various types of services offered by IT companies – 'Application management, IT consulting, Web hosting, Database management, Cloud based services and many more'. As the session ended Mr. Subrahmanya wished all the students a bright future and blessed them for being patient listeners.