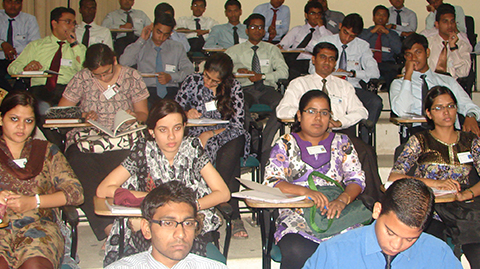 Date :  9th July 2013
Mr. Riju Antony graced IBA students with a guest Lecture on the topic "The Value of Time and Money". The lecture was arranged by the Principal, Dr. M.S. Ramchandra for the students of PGDM batch 2013-15 to clear the doubts of wannabe HR students and equip them with knowledge about the same. Mr. Riju Antony is South Zonal Head Manager of Reliance Retail Ltd. and has a work experience of 18+ years in the field.
Mr. Riju started his lecture by describing the value of time and money by doing some simple calculations and how to utilize the money by spending quality time by gaining the right knowledge. He emphasized students to make use of time and always keep on asking "why".
As he believes in hard work, he justifies performance as when you neglect your interferences from the potential of work you have. He also explained the students how to present themselves in an interview and what a company requires to judge a job applicant.
Lastly, he encouraged the students by 3 B's by describing them as "to believe in yourself, behave properly and do the business." He also shared the experiences he had come across during the recruitment process and also shared the work procedure that the company follows to attain the growth. During the lecture, everything he explained with the help of the short stories. The session came to an end with Prof. Sowmya C S thanking Mr. Riju Anthony for sharing his experiences with the students and providing them insights about the knowledge and need of the corporate world.